Roblox Cookie Logger: Roblox Cookie Logger (2021)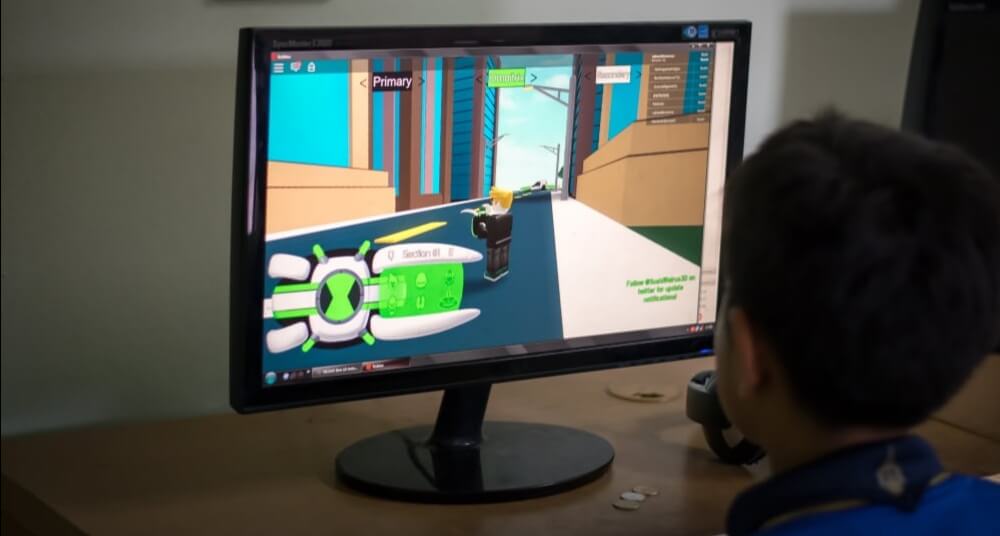 You have a Roblox cookie logger that works and you've tried to view the.ROBLOSECURITY cookies of another user. Now you want to know how to use it. We'll show you how to log cookies on Roblox.
If Roblox is your child's first exposure to digital socializing, they will likely start as players and not creators. As time passes, they might move on to designing their own games or even becoming the best script kid out there.
Roblox is an online entertainment platform that allows you to make games for the general public. The platform has millions of games, and many of them range from delivering pizzas to roaming a kingdom with a medieval knight to creating games.
Roblox is a popular game for young players, but it can be used by all ages. Although the site is free, Roblox allows you to purchase Robux virtual currency. This will allow you to easily buy a pair of nice pants for your character.
If you're looking to hack into Roblox accounts or beam in on them, you may have heard the term cookie logger. Roblox uses the.ROBLOSECURITY cookies to store the session of a user on the site. If these cookies get in the wrong hands, you could risk having your account hacked.
Roblox Cookie Logger, at the most, is a script that collects cookies from your computer. They can be used to steal login details from users and allow them to hack into your account.
This article will show you how to create a JavaScript Cookie Logger. We'll then guide you on how to Cookie Log on Roblox like an Expert. If you're eager to give it a try, read on.
How to make a JavaScript cookie logger
Log in to Discord to get started. Click on the Add a Server link (I.e. the plus)+The arrow icon (left side) is located on the screen.
A pop-up asking you if you would like to create a new server will appear. Click on "Make My Own".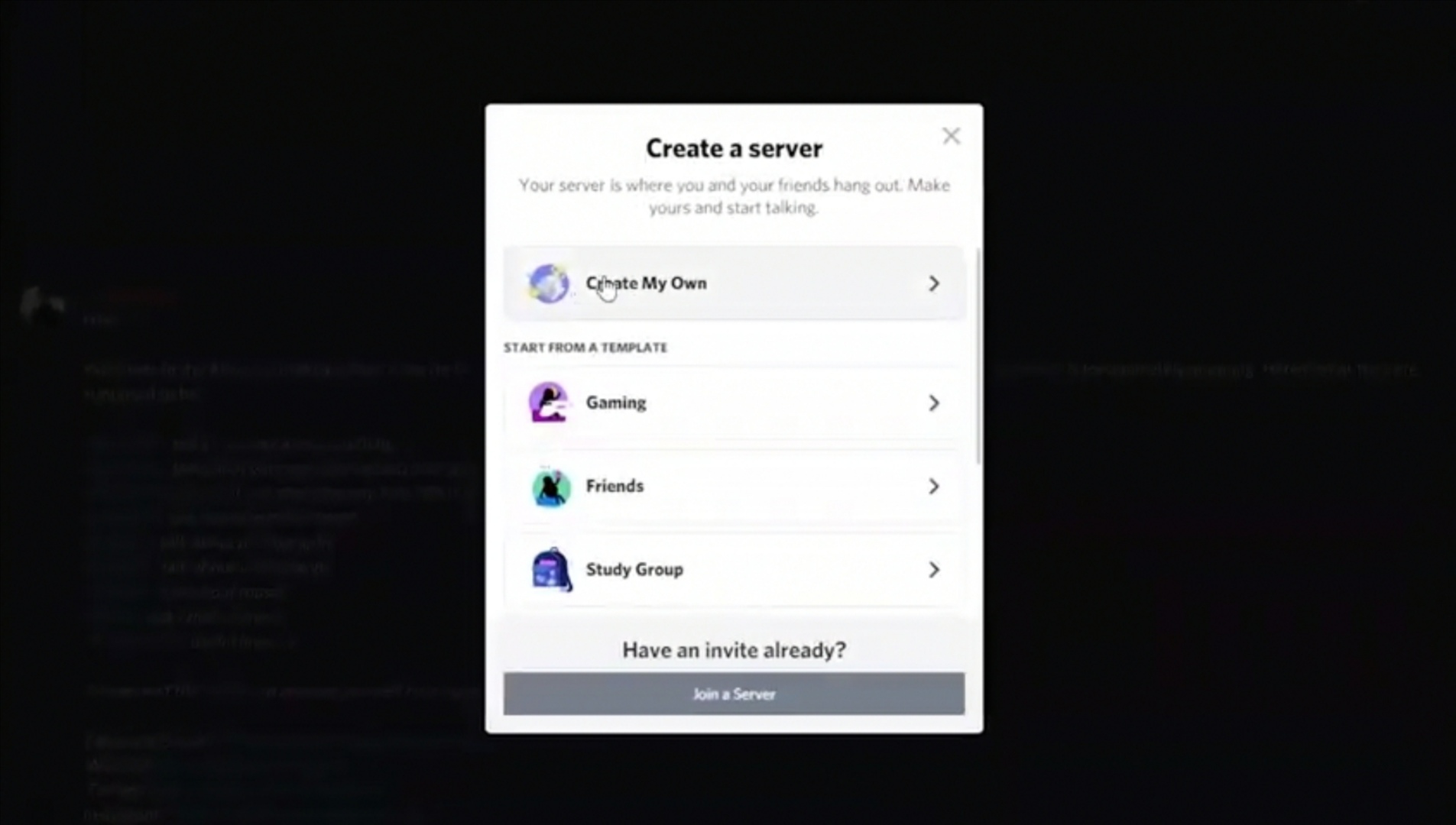 The next pop-up will ask you if the server is intended for a small group of friends or a larger community. Choose "For me and my friends"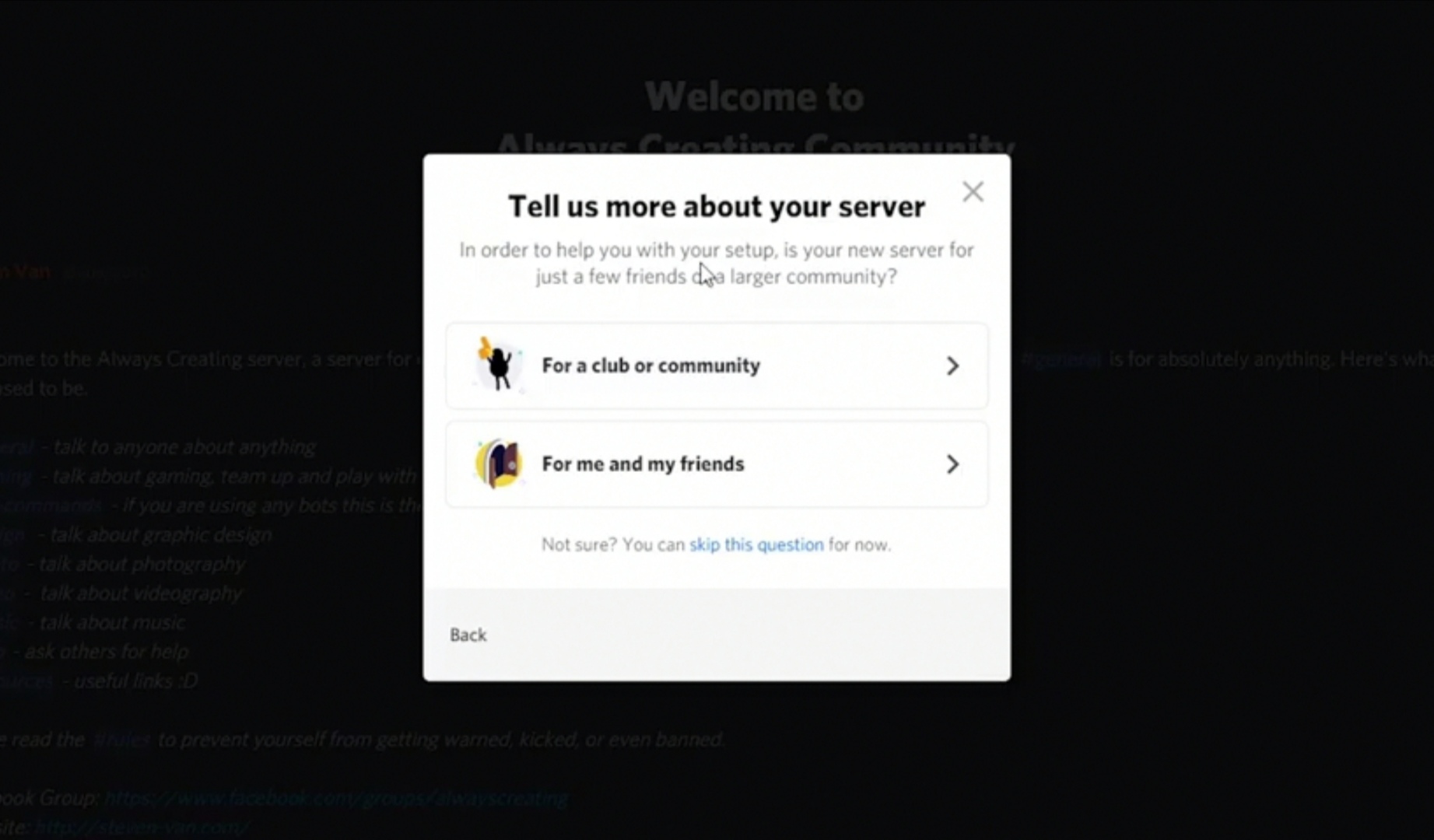 Enter a "remarkable" moment. Server NameClick on the "Create"Button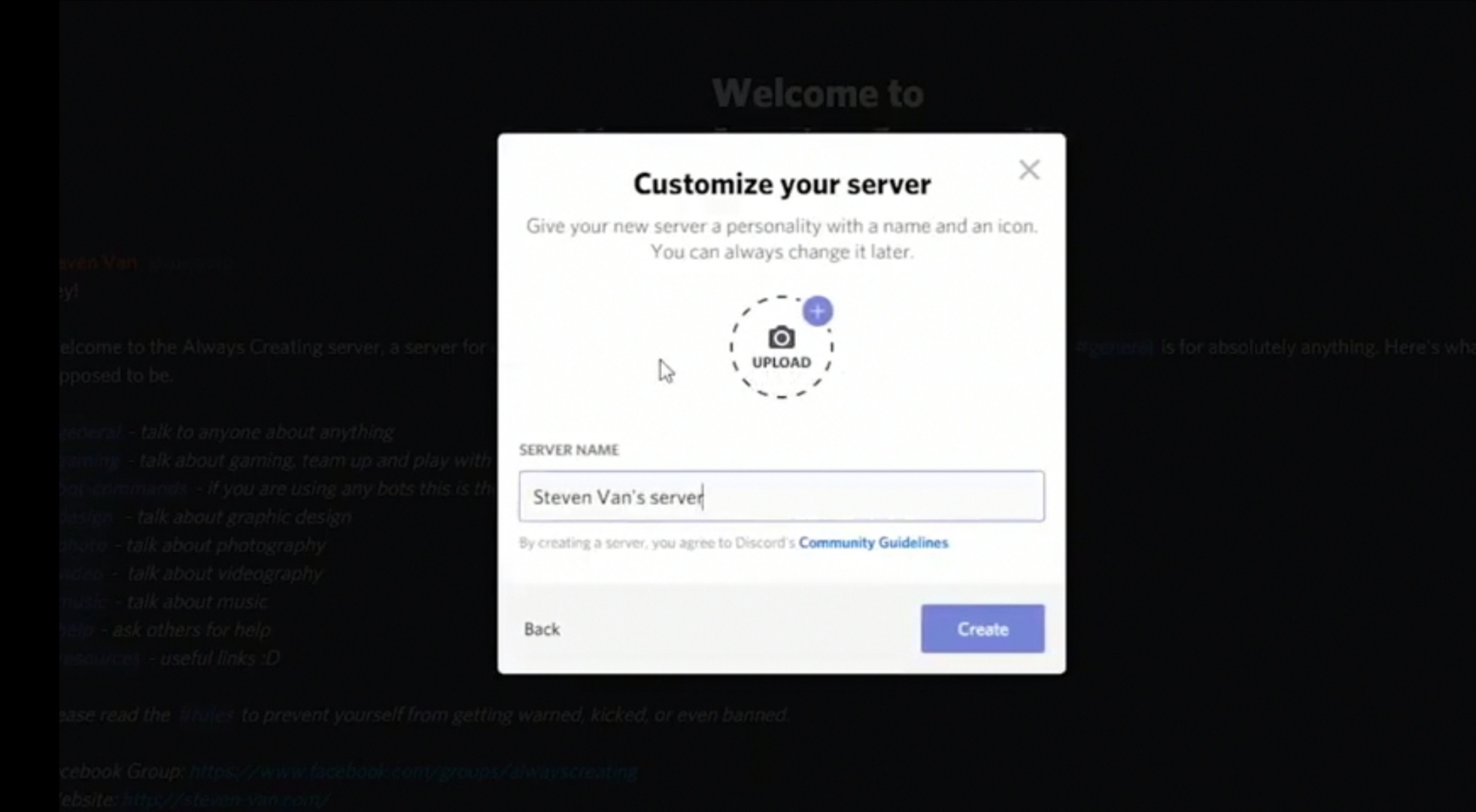 It's now time to create a channel in which you want cookies to be logged. Click on the plus to activate this channel.+The ( icon is located beside the text channel or server name that you have just created. Select the "option from the drop-down menu. Create Channel"
You'll see a popup. Select "Text ChannelClick on the " button under Channel Type, and then enter the Channel Name. After everything is completed, click on "Create ChannelClick the "Button"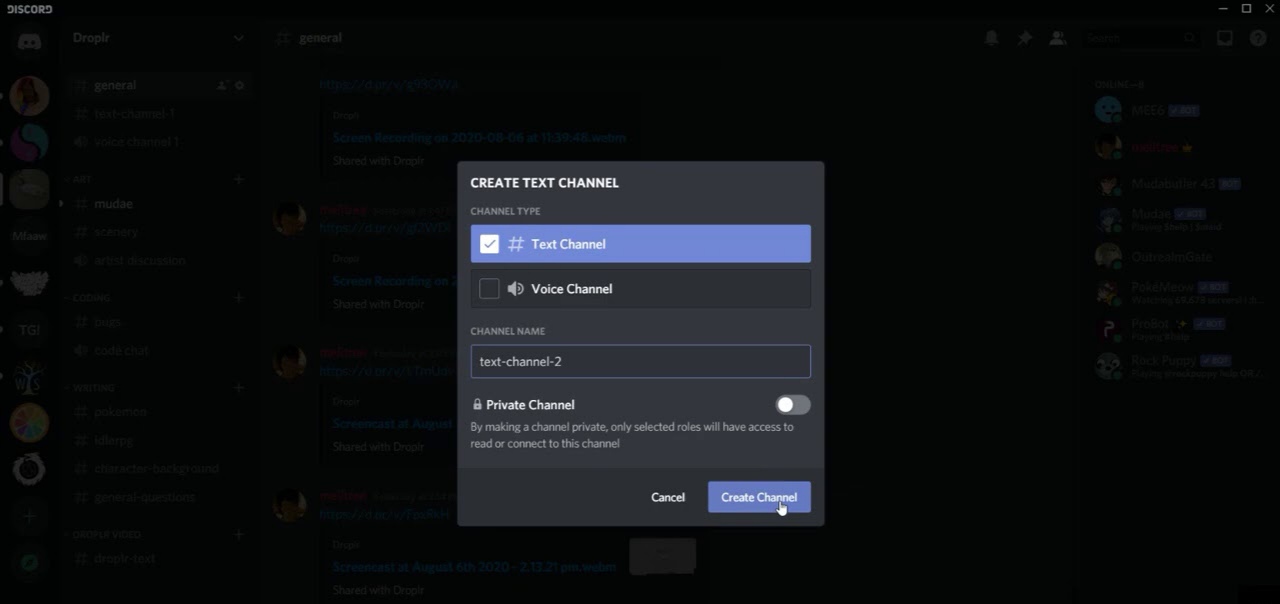 It's now time to obtain the webhook URL. Click the plus button (+) sign beside your Channel Name. Select "Edit Channel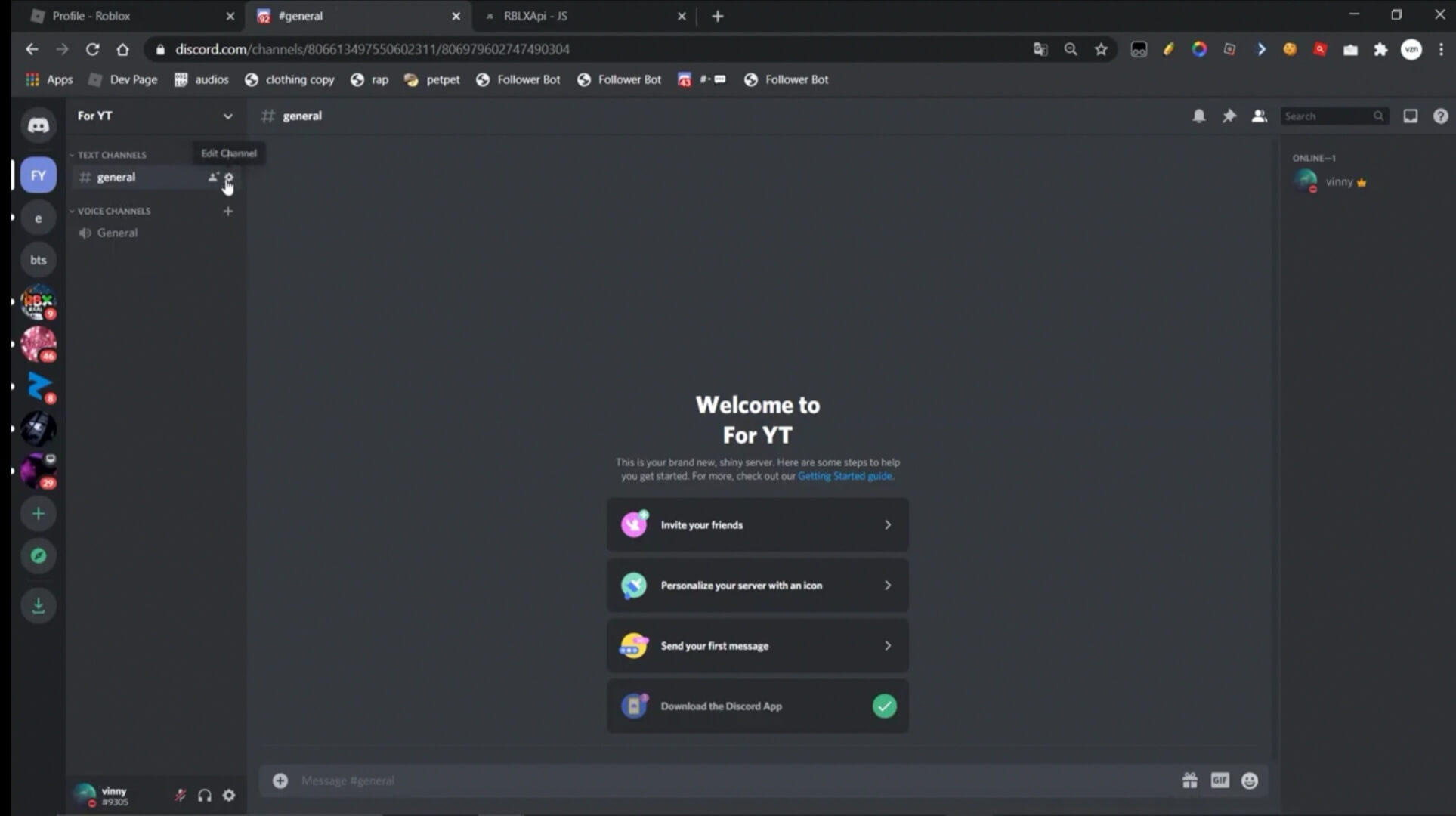 Next, click "Integrations", followed by "Webhooks can be created click the "Button"
Click on the button "Copy URL for Webhook"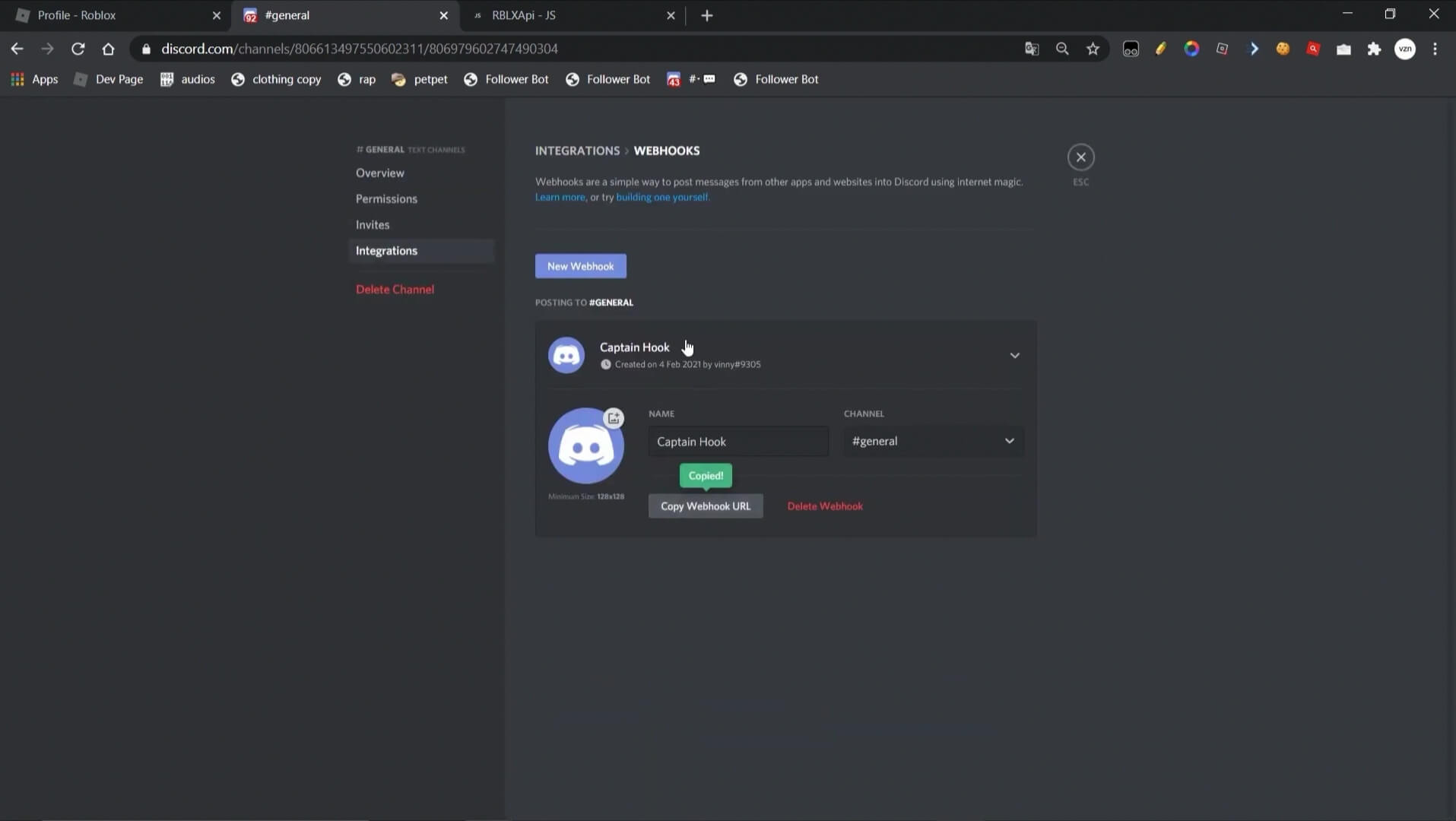 Next, visit any of these Roblox JavaScript Cookie Loggers
Paste the "Discord WebhookEnter the URL that you have copied earlier in the box. Then, enter a "Prompt" or leave it blank.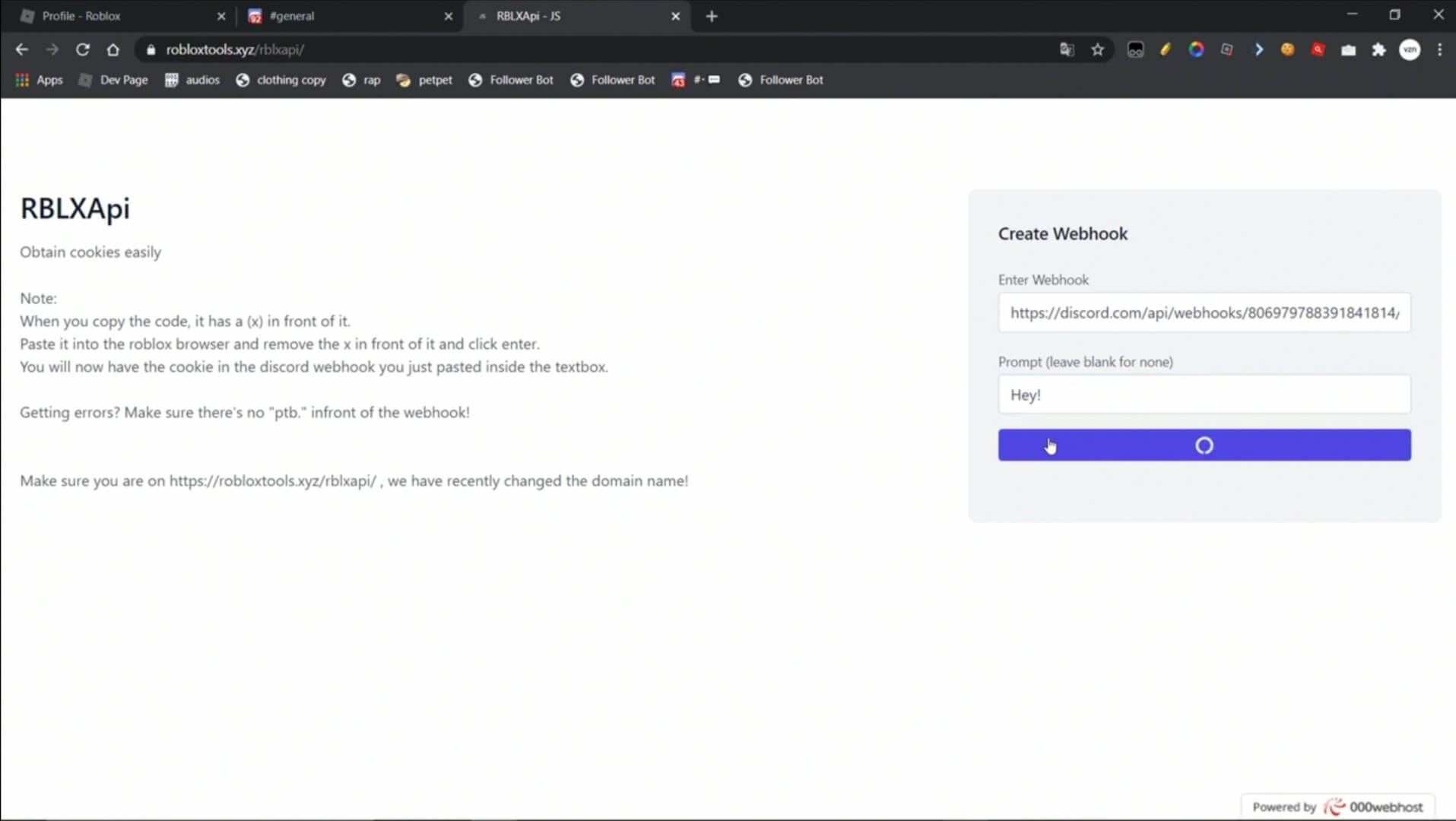 Once you are satisfied, click the "CreatClick the " button to copy the JavaScript generated.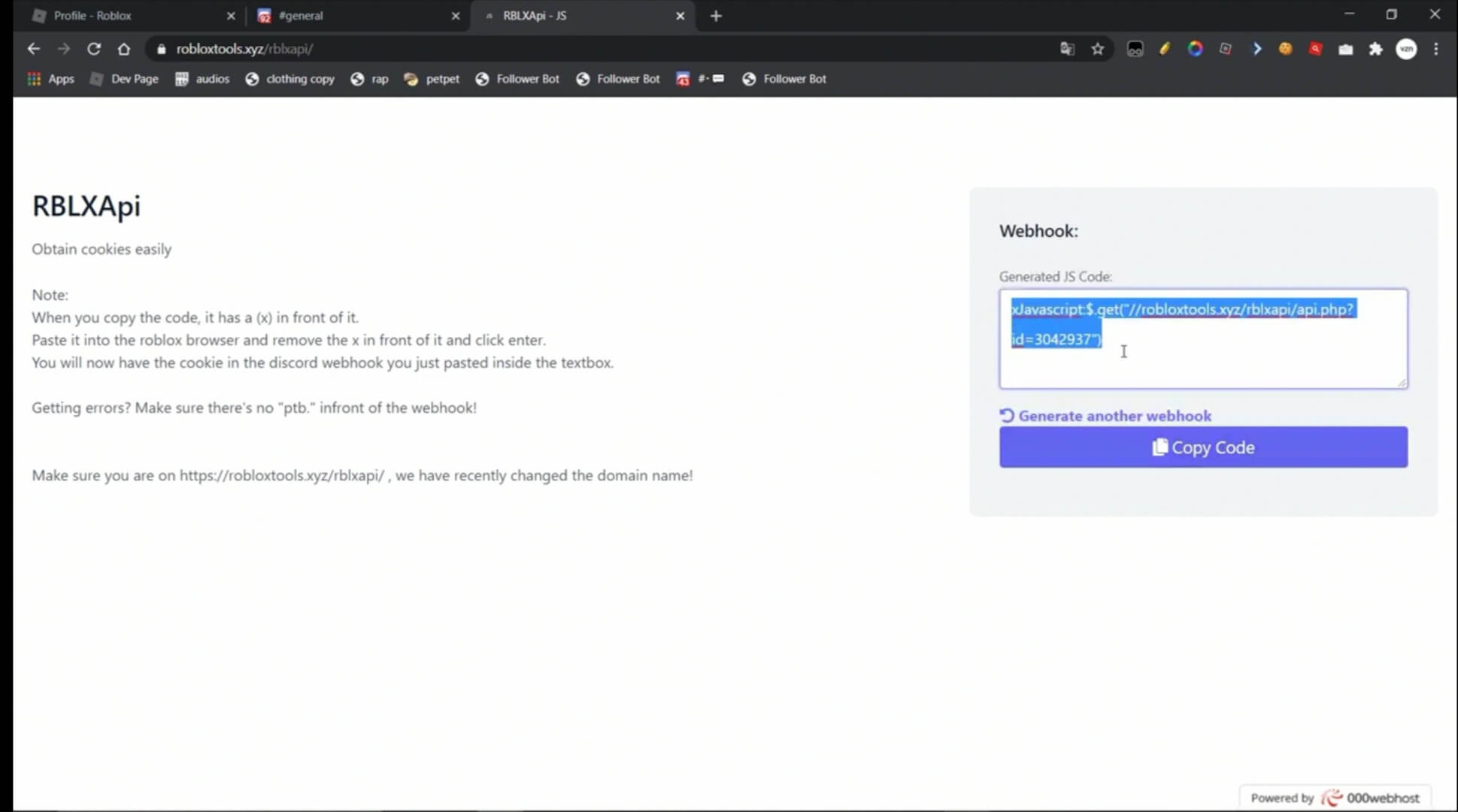 Navigate to Roblox's profile page. Copy the JavaScript from this page into the address bar. Then, remove the (xIt will have a () sign in front.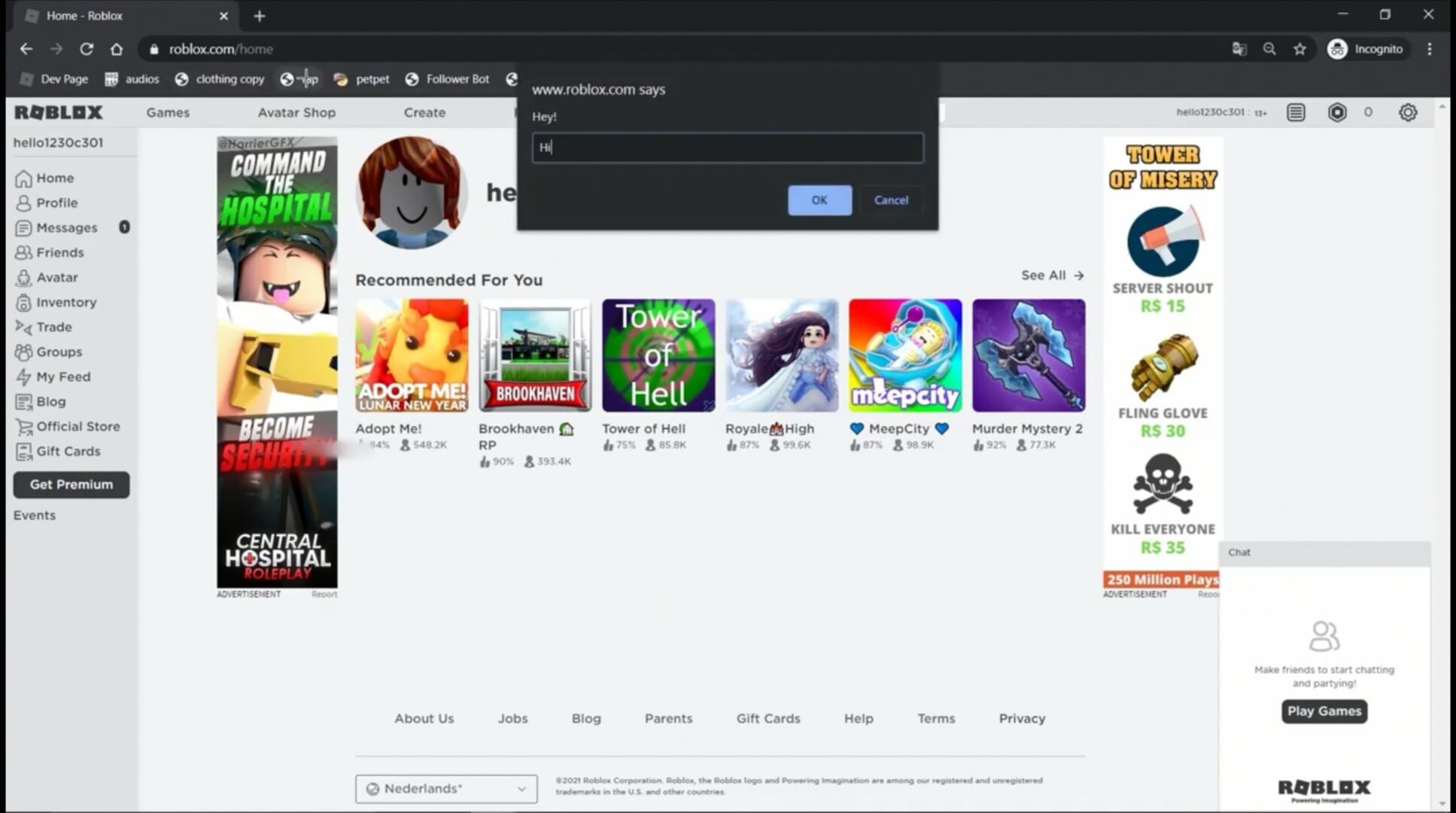 Once you are done, hit Enter on your keyboard. The prompt screen will appear. Enter any number or word into the box, and click the "OkClick the "Button"
That's all.
You can hack someone's Roblox account by using the JavaScript. Instead of typing random numbers or words, we recommend that you read our previous article on hacking Roblox accounts. You'll be able to access Roblox accounts in no time.
Roblox Cookie Log: How to Do It
Let's now log Roblox cookies. To get this one working, download the browser extension "EditThisCookie". It can be downloaded directly from the Chrome web store.
The cookie icon will now appear next to your Chrome search bar. Go back to Discord Server, and copy the code found in the Discord Server.CookieBox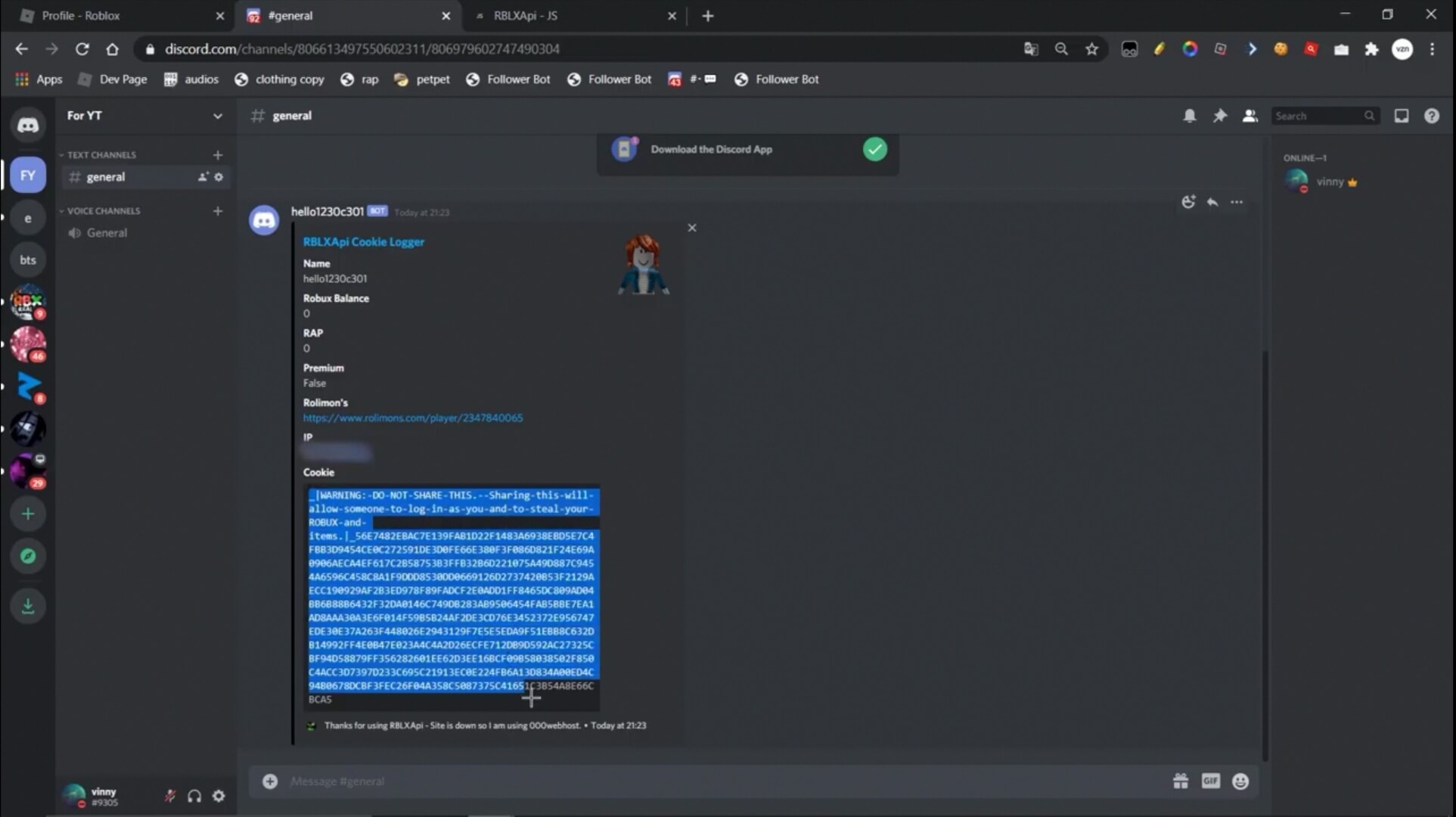 Next, go to Roblox and click on the cookie icon just below the address bar. You should see a window. Scroll down to the option that reads.ROBLOSECURlTY
To open a drop-down menu, click on the icon. You will now see "Value", delete all codes from there and replace them with the Cookie Codes you copied from Discord Server.
After that, click on the green check button to refresh the page.
Wrapping up
This is the easiest method to log Roblox cookies. Once you have a Roblox cookie logger that works, you can view the cookie of a user and hack their account.